Steph Curry: 'We Ain't Going Home'
The league MVP proved his worth in the closing minutes of the Warriors' Game 5 win.
With a little over a minute left in Game 5 of the NBA's Western Conference Finals, with his Golden State Warriors trying to stave off elimination, Steph Curry sprinted toward a loose ball, nabbed the steal and steamed downcourt. He skipped his way around a outmatched defender and swept to and through the paint, ultimately swinging his arms and spinning the ball into the hoop.
He was right, and the Warriors wrapped up the victory, forcing a Game 6 in Oklahoma City on Saturday.
But Curry showed something else in that post-layup celebration: After a two-game slump, the NBA MVP was back — and he was announcing it in the most Curry way possible — after a circus shot, amid a taunt, with 20,000 fans in gold and blue screaming his name.
The scale of Curry's slump had been staggering, considering the level at which he normally operates. He went a combined 5-of-21 from deep in Game 3 and Game 4, shooting from the floor at a 35 percent clip — and, perhaps most shockingly, missing three free throws.
But on Thursday, all of that seemed in the past. In Game 5, Curry went for 31 points on 9-of-20 shooting, drilling three treys — and making all 10 of his attempts from the charity stripe. Considering Curry's offensive acumen, what was even more impressive was his defense — especially what he showed off late in the game, as he bodied up and closed out on the Thunder's lean, long Kevin Durant, picking up five steals in his 37 minutes on the court.
When the Warriors needed a boost to hold off the knocking Thunder, he delivered: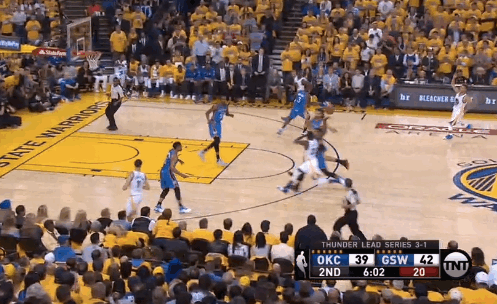 Time and time again. Just as pre-slump Curry was wont to do.
So rejoice, Golden State fans. Your MVP is back. Now the Bay Area just has to hope he saved some firepower for Saturday's Game 6, when he walks into an arena that's been quite unkind to him as of late.
We'll see you in Oklahoma City.