20th Century Fox, Paramount Have No Female Directors Through 2018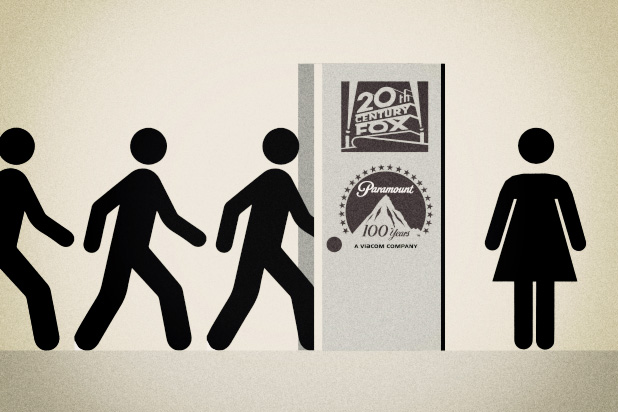 A tally by TheWrap found 22 consecutive films from Fox — not counting Fox Searchlight, the studio's art-house division — and 25 consecutive releases from Paramount had only male directors attached. So far, that covers all movies scheduled to hit theaters this year, next year and 2018 too.
Representatives for Fox declined to comment; Paramount did not respond to repeated requests from TheWrap. Neither studio disputed the statistics.
"It is always shocking, though unfortunately not surprising, to see that studios continue to not give women opportunities to direct," Melissa Silverstein, founder and publisher of Women and Hollywood, told TheWrap. "This is a complex issue. The film business is layered with sexism so that when you peel away one layer, you still have many layers to get through."
With big-budget, action-packed studio tentpoles that cater to the tastes of teenage boys, women can't get access to the jobs men get. "They can't get on the studio track," Silverstein added. "The studios have been awakened and schooled on their unconscious bias. No longer is it acceptable to say that women are not competent, or there are not enough women, or that they don't know any women. This consistent and persistent view of women directors is plain and simple discrimination."
Hollywood is trying to improve its statistics regarding female directors, but the truth is that global audiences won't really witness the result of this sea change for several more years. After all, the films hitting theaters this year and next were put into development pipelines many years ago, before the outcry of gender-bias reached deafening levels.
For this story, TheWrap studied 20th Century Fox next 22 movies with release dates, even vague ones like "Keeping Up With the Joneses" and "The Mountains Between Us."
Here is the list of Fox's upcoming films:
Here is Paramount's slate:
"The Moon and the Sun" (Sean McNamara) – TBD
TheWrap looked at the slates of all the other major movie studios too, and here is what we found:
While Disney is releasing director Toni Myers' IMAX documentary "A Beautiful Planet," the studio had no role in the hiring.
Disney also releases fewer films than most of the other major studios with the exception of Paramount, and has been busy telling female-driven stories featuring empowered female leads, such as "Inside Out," "Cinderella," "Star Wars: The Force Awakens" and the upcoming tentpoles "Moana" and "Rogue One" — though all were directed by men.
This fall, Screen Gems will open Anna Foerster's "Underworld: Blood Wars," adding to Sony's tally.
TheWrap did not include releases from Sony Pictures Classics, since the art-house division depends mostly on acquisitions as opposed to projects that it develops in-house, with a greater say over filmmaking hires.
Warner Bros. typically releases the most movies each year, and it will release three films from female directors over the next several years.
There's this June's romance "Me Before You" from Thea Sharrock, "Wonder Woman" from Patty Jenkins and "Unforgettable" from the studio's longtime producer Denise Di Novi.
source; Huffington post