The Best boxers of all time.
1) Muhammad Ali
If Ali were in the same weight class as Manny he would destroy him. Ali would dissect Manny's brains and make him believe he was invincible. Physically Ali had faster hands, better foot work, the best jab of all time, a diamond chin that was unbreakable and a heart that wouldn't give in. Mentally he is just too smart for Manny, He would psych Manny out and toy with him before and during the fight. He is a genius, and that can't be beaten.
M+200
Easily the Greatest of All Time, the greatest boxer, thinker, competitor, role model, and the greatest leader for loving people, competing with his all, and not thinking of his self.
M+108
Was Most fearsome boxer in the world he should be no 1
M+89
2
Vote

E
Manny Pacquiao
DEFINITELY NO ONE CAN MATCH HIS RECORD HE MAKE A HISTORY NOT ONLY IN BOXING BUT ALL CHAMPION IN THE WORLD HE IS THE ONLY ONE WITH 8 CHAMPIONSHIP BELT, AT THIS TIME NO ONE CAN BEAT HIM, MAYWEATHER HAVE SO MANY EXCUSES HE AFRAID TO FIGHT MANNY CAUSE HE KNEW HE WILL LOST
M+221
Pound for pound BEST IN THE WORLD!... I'm glad he's number one... I mean its not like he has to prove anything.
M+146
Spell Manny Pacquiao in English, "THE BEST"
you know why? because he is the best.
M+132
Manny is the best boxing fighter.
Mnew
3
Vote

E
Mike Tyson
I get kind of tired of people giving Tyson less credit than he deserves and its bull. Everybody complains about how Tyson just fought average fighters and not the best and when he fought the good fighters he lost. Tyson dominated for about 5 or 6 years fighting pretty much the best of his time. Yes he beat an old Larry Holmes and Michael Spinks but lets admit do you really think that those bag of bone boxers could beat one of the strongest punchers of all time by using jabs and crosses? Mike would beat them if they were in their prime the only reason why Larry ever became famous anyways was because he won against a old Muhammad Ali its funny how no one ever brings that up how Larry won against an ancient Ali but everyone brings up Tyson won against ancient Larry Holmes. Then Spinks came into the argument; you know at least Larry was able to last about 3 or 4 rounds but Spinks got knocked out in 91 seconds that's is basically domination. By the time he went to fight Buster Douglas ...
more
M+7
Tyson was the most exploited boxer in terms of "myth building" by Don King's organized crime organization and the sporting press ate it up which created the most over rated fighter in history! Tyson was a wonderful combo of speed and power and given the tomato cans that his handlers put in front of him, he was destined to reach the top of the heavyweight division at some point but it was no accident that a boxer with power like Buster Douglas knocked Tyson out early on because Tyson was vulnerable to a big puncher. He was never again to face a quality opponent until the two Holyfield defeats and then the Lewis destruction. George Foreman never got the chance to fight Tyson as his promoters knew that the match up of styles would expose the five foot eleven Tyson to the knockout power of the out of shape, aging Foreman. If you want to understand the heavyweight division you should study film footage of the greats like Jack Johnson, Evander Holyfield. George Foreman, Joe Frazier and even ...
more
M+35
When it comes to the two best of all time it's no doubt Muhammad Ali and Mike Tyson. When it comes to Ali vs Tyson I pick Tyson every time. Tyson won against tomato cans as you say but he also had some a lot of good wins and if Tyson and Holyfield would have fought in 1991 I bet the fight would have been a different outcome. You say Tyson never won against anybody to good and lost to the best competition. Not completely true Tyson is the youngest man on earth to have ever to capture all three heavyweight belts and it a two time world champion. Tyson was in a time of newer and improved fighters while Ali was in a class of people that were not in his league. Ali is good no doubt but could Ali deal with what Tyson dealt with? Ali beat Sonny Liston wasn't Liston just the regular brawler? Floyd Patterson was really no different than Liston he didn't move very well and was very slow. Anyone see how George Foreman fights? As Ali said he fights like a mummy and that you can out run a mummy. ...
more
M-1
4
Vote

E
Sugar Ray Robinson
Ali said himself and always maintained that Sugar Ray Robinson is the greatest boxer of all time.
He said of himself, he was the best heavyweight. And because he was the larger man, not the better boxer he would have beaten a Sugar.
Pound for pound Sugar was the best.
Roy Jones wouldn't win against Sugar with both men in their prime even if they fought ten times!
M+27
Pound for pound Sugar Ray Robinson was the greatest boxer of all time his record wins in professional and amateur speak for themselves. He was officially never knocked out by any fighter and he fought until he was 45 years old. The man won boxing titles in welter and middle weight divisions. His only blemish is his TKO loss to light heavyweight champion Joey Maxium. A fight he was winning on all judges scoring card until the fight was stopped because of heat exhaustion Robinson suffered fighting at the old Yankee Stadium. He will always be THE GREATEST FIGHTER AND BOXER OF ALL TIME.
M+11
Sugar Ray Robinson...173 wins (ko'd 108)-19 losses-6 draws. Born in 1921, debuted in 1940 at 135lbs, won the 147lb title in 1946, won the 160 lb title in 1950, challenged for the 175lb in 1952 but passed out in the 14th round due to heat exhaustion while leading 10 rounds to 3 on the judges score card. He retired until 1955 & he came back won the 160lb title again. He won the 160 lb title 3-4 more times and retired in 1965. Could knock you out with either hand, was lightning fast & had a good chin. THE GREATEST OF ALL TIME!
M+8
5
Vote

E
Rocky Marciano
Rocky Marciano should be number 1, he beat Ali in the Super Fight Animation! He is still undefeated even though he is dead (RIP), went to 49-0, had one of the hardest punches in fighting history, NOT JUST BOXING! He beat Joe Louis and also MANNY PACQUIAO NUMBER 1!? That's very bad, it is between Ali and Marciano.
M+43
He is the greatest of all time and he also has the greatest single punch of all time when he knocked out joe walcott for the heavyweight championship of the world. 49-0. He is also my favorite boxer of all time. 49-0.
M+29
marciano is the best... he has begun his career while he was a soldier that is why I appriciate him... besides he just super, best ever
M+24
He trained harder than anyone else and today he would kill Manny pacquiao and mayweather at the same time
Mnew
6
Vote

E
Joe Louis
This man is simply the greatest, watching him fight in his prime...no-one ever stood a chance. His only legitimate loss was against Max Schmeling and Joe knocked him out round 1 of their rematch. The precision he had, he was able to land one in right on the chin every time as opposed to throwing random hard punches until his opponent was done. I find watching this man far more spectacular than any other boxer as every knockout of his was some perfect direct hit that looked like he was planning from the very beginning. Ali prepares moments like this, but Joe just waited and prepared for the moment to land his perfect 1 hit KO punch. -
connorfordham
M+11
What makes an athlete great is not only how much they excel at a sport but how they standardize the sport and how they inspire people (black and white, rich and poor alike). We, unfortunately live in a time where athletes are nothing more than athletes. No one stands up for anything anymore or inspires us to be great at what ever we do like Joe Louis, Muhammad Ali, or Rocky Marciano. Joe Louis has my vote for #1 place. He has an outstanding record and title defenses and well as longevity. Joe Louis #1.
M+2
A real peoples champ, he was undefeated for 12 years! and was champion for that long as well!
M+15
I thought either him, Ali, or others will be number 1 but oh well -
Pony
Mnew
7
Vote

E
Floyd Mayweather Jr.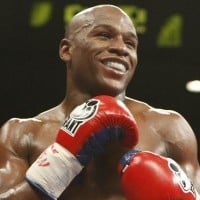 This guy doesn't even deserve to be mentioned in the top twenty his whole carrer he's been ducking fighters he just fights boxers he knows he can beat he is in it more for the money than the glory so if you want to even be mentioned with the greats you fight all comers even if you know there is a chance he will wipe the floor with you.
M+73
He asked for De La Hoya and Mosley way back in the early 2000s. He told Pacman to take the blood test in 2009 so that they'd be on equal playing fields. He defeated an undefeated Ricky Hatton and in 2001, Diego Corrales. He beat Shane Mosley after quite possibly Shane's most impressive win of his career. He defeated De La Hoya when Oscar was the A-side fighter. He has the best hit to not hit ratio in the history of boxing. He has defeated more world champions than anyone in the history of the sport. He's undefeated. He has never been knocked down once in his entire career. He makes the best boxers in the world look like amateurs with his brilliant defense. He took out every single fighter that people wanted him to face, and when they said they'd give him his credit if he won, they proceed to make excuses for the loser, and ultimately try to diminish what is another day in the office for Floyd. Anyone that had a close fight with him, he rematched instantly and completely outboxed them. ...
more
M-2
Mayweather has delayed fighting Pacquiao for years and hasn't really faced the best before. Mayweather is a solid defensive fighter but may not be able to stand up to the offensive agility and quickness of the world's greatest southpaw. If Pacquiao doesn't knock him out in the first few rounds, he will wear him out in later rounds. Pacquiao needs to be hungry and throw the combinations because if he doesn't, Mayweather could sting him. Sadly, it's a US based fight and Mayweather is American so if it comes down to points, Pacquio is finished because the odds makers need a Mayweather victory in order not to lose millions!
M+7
Number 2 of all time right behind Ali
Mnew
8
Vote

E
Roy Jones Jr.
really impressing und stunning - untouchable.
combining lightning speed and reflexes with ko-power - he had the complete package.
He was so fast, this enabled him to do what he wanted to, although it surely wouldn't work out for anybody else.
Unique!
Should have fought more in his prime and easily beat everybody - he had no opponents.
Should have end his career after his heavyeight-title-fight.
Poor and sad career-ending.
M+19
Pound-4-pound, he possessed the best combination of reflexes, punching power along with hand and foot speed in boxing history. Probably the most dynamic puncher as well, considering the speed and power he possessed in both hands.. Consistently embarrassed world class opponents through out his career, in his prime NOT only did he remain unbeaten but it was rare for him to even lose a round.. Legacy is hurt due to staying in the game to long and being unwilling to take risks in the ring... In my opinion he would have outclassed Robinson!
M-1
I feel like everyone over looks Roy. In his prime I don't think anyone could have beaten him. So much speed and power. He threw those punches from the side that looked like nothing yet yielded devastating knock out power. His dancing and taunting with hands behind his back only to counter with knock outs. He was a fighter who evolved past boxing. The was very little fundamental to his style. GOAT!
M+3
By far the most entertaining fighter in his prime.
Mnew
9
Vote

E
George Foreman
Foreman was the most feared fighter of his day and retired for ten years during his absolute prime. He returned to the ring in poor shape (for only the money) during the reign of Tyson. Don King knew that the match up of styles would not be in the best interest of Tyson and the myth they had fabricated around Tyson and would not make the dream fight happen. An interviewer asked Foreman if he thought he could beat Tyson as Tyson had dismissed the prospective match as a "piece of cake! " The interviewer said to Foreman "you must admit, he's a pretty tough cookie" Forman replied "yah but that tough cookie is afraid of this piece of cake! " Foreman's power, longevity, jab, chin, and second career success ranks him among the top five fighters ever. The other four in any order are Jack Johnson; Roberto Duran; Teofilo Stevenson; S Ray Robinson.
M+18
Tyson would have started the fight whipping Foreman's butt, laughing to himself at how easily he was beating the old man. After a few rounds of watching Foreman stumble around the ring Tyson would start to tire and wonder why this old man was still standing. Finally, he would find himself laying on the floor wondering how the hell a tree trunk was able to come swinging through the ring and pummel his poor fragile body into mush and why the referee was holding Foreman's hand up to the cheer of the crowd.
M
Greatest boxer of all time. Master of destruction in the ring. One of the most winning fighters in history with a impeccable pedigree of formidable challengers which he defeated.
M+6
A man who cannot be beat even by guys like mike tyson when he was in his prime.
Mnew
10
Vote

E
Sugar Ray Leonard
If there is any truth that there is one boxer greater or the best of all other boxers leonard would be my choice he won all the great boxers to be great you have to beat great boxers he did that
M
Sugar ray is one of the greatest boxers of all time. Leonard was 1 of the most versatile boxers the game has ever seen, from he speed, his ring generalship&toughness. You fools have him ranked at 20 goes to show that you guys don't know nothig about boxing. Lets end on a reel note Aryon Pryor were is he rankm on your list. The Greatest jr welterweight of all time. Up grade your boxing knowledge.
M+8
Dancing queen! Not a patch on Marvellous or the Hitman...but fair play, he could leg it!
Did kick the Dr*p out of Duran, though. No mean feat!
M
Best welterweight, ever!